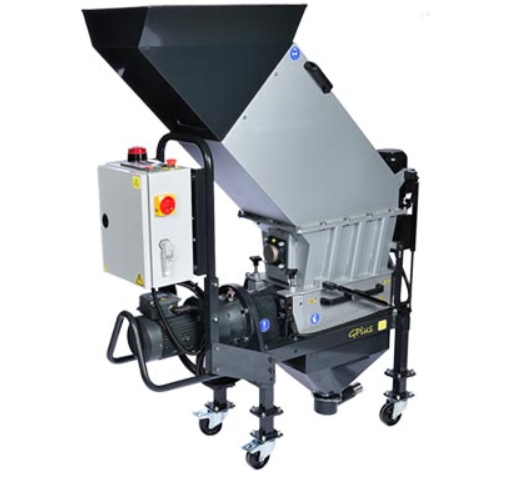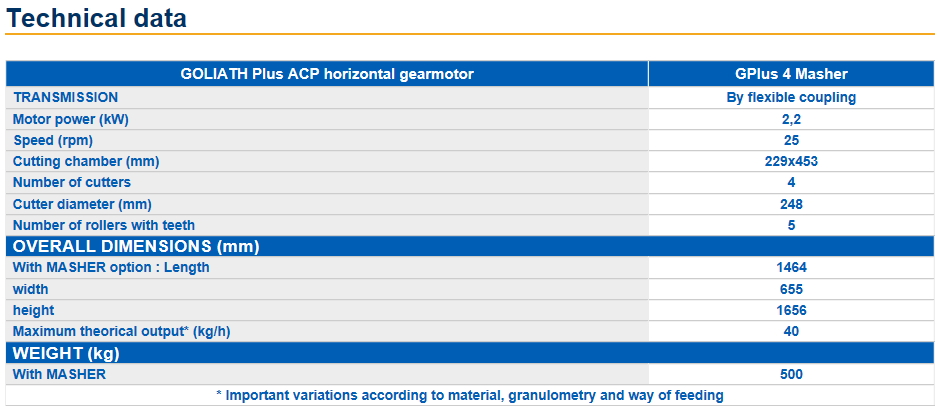 Goliath Plus Masher ABS system

The Goliath Plus ACP are especially adapted for the recycling of sprues, small and big,
and also for parts for besides press operations.
The regrind high quality allows you to use them in a larger quantity without affecting the molecule structure of parts.

Our advantages for your production :
- Ergonomic grinder
- Reversible combs
- Both helical and trapezoidal granulometry
- Polycarbonate or soundproof steel hopper
- IMD detection (in option)
- Easy cleaning and maintenance
- MASHER system

Options
- MASHER system only on GPlus 4 (depending on option)
- IMD system (see IMD system)
- ABS anti-blocking system (see ABS system)
- Level detectors : rotating paddle or capacitive sensor
- Soundproof hopper
- Gearmotor : 2.2 kW instead of 1.8 kW
- Large capacity bin (granulator with higher stand).
- Granulometry Rollers with tooth configuration both trapezoidal and helical.
  3 sizes available : tpz5, tpz6 and tpz8 (other size : contact us).